Autocar
4561
Testbericht
aus
Autocar
Vol 161 No 4561
week
ending
26 May 1984
S. 22 - 27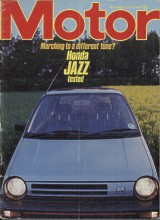 Auto Test Honda Jazz

---

£ 4,315

---

| | |
| --- | --- |
| Max: 88 mph | 0 - 60 mph: 13.4 sec |

---

35.3 mpg overall

---

FOR:

Useful height from unusual shape
Nippy performance
Light controls
Accurate steering

AGAINST:

Engine noise intrusive
Choppy ride
Limited rear legroom
Seats lack support

Small but tall
New kind of town car from Honda has full Autotest

Honda have something of a reputation of marching to the beat of a different drummer when it comes to the design and engineering of their small cars. There were the S600 and S800 sports cars, whose power units seemed to have the rev-ability of formula 1 engines, the minuscule N360, an early attempt at a town car with its two-cylinder engine, and the slightly larger N600, more conventional in appearance, but still with two cylinders of motive power.

The Honda Jazz, then, is following something of a family tradition, and even though its mechanicals are orthodox enough, the stares and double-takes of motorists and pedestrians alike soon confirm that Honda's latest attempt at an urban car looks like nothing else presently on Britain's roads. As discussed in Technical Focus, the Jazz employs the so-called "tall-car" principle to give occupants a higher seating position, with attendant gains in visibility and ease of entry and exit, in a compact, easily manoeuvred package.

TECHNICAL FOCUS
The design concept for the Jazz accoring to Honda engineers, was based upon a sphere rather than a cube, and it most definitely shows. The Jazz is a member of the increasingly in-vogue "tall-car" fraternity and more closely resembles a Nissan Prairie than any other vehicle. Clearly, the most notable feature of the Jazz is its unusual styling. The bonnet and windscreen are steeply raked - the latter at 55 deg to the vertical - and flow into the asymmetrically shaped grille. The large front and rear bumpers-cum-aprons are one-piece polypropylene.

The rear of the car follows a nearly vertical line with the roof itself terminating in a small, upswept spolier while the back wheels are positioned so far rearwards that there is virtually no overhang. A drag coefficient of 0.40 is not terribly impressive by current standards, but it must be remembered that small cars are more difficult to make aerodynamically efficient than larger ones. The Jazzz incorporates a number of windcheating touches, including the windscreen glass and rear side windows glazed directly to the body, horizontal louvres in the rear bumper to help reduce under-body pressure build-up, plus flush door handles and side mouldings.

More interesting, though, are the possible practical benefits to be derived from a tall-car design. Because of the higher roof line, the driver and front passenger sit 2 3/4 in. higher than in a more conventional hatchback like the Civic - with attendant gains in visibility. In fact, the "maximization of inner space" was a high priority within the compact external dimensions of the Jazz. To this end, the location of the transverse engine and strut-type front suspension system were designed to intrude as little as possible into the interior of the car. Similarly, the position of the rear wheelarches and slimline coil spring-strut (seperately mounted) suspension means boot capacity is only marginally infringed upon. In addition, the mouldings for the headlining and door linings have been designed to contribute extra inches of unsable space.

The short tail of the Jazz means there is less luggage space than in some of the car's competitors (6.9 cu ft. is the manufacturer's quoted figure), but the rear seat can be folded into a vertical position behind the front seats to provide a useful cargo area.

Conventional
hatchback
Honda
Jazz
Aside from the obvious improvement in visiblity, one of the biggest gains from a "tall-car" design such as the Jazz is the ease of entry and exit - particularly appropriate for a vehicle spending much of its working life in town

Putting the pros and cons of such designs to one side for the moment, though, how does the Jazz perform? It's light at 1,556 lb, despite all that weight-adding glass, and the 56 bhp, 1,231 c. c. engine propels it to 60 mph in a respectable 13.4 sec. In fact, it displays useful gains in all the major performance indicators over the last comparable Honda Civic tested, a 1,238 c. c. five-door model (8 April 1978). It is also very much in contention, as far as performance is concerned, with the other small hatchbacks against which it is clearly pitched.

With a bore and stroke of 66.0 mm x 90.0 mm, the engine in the Jazz is clearly undersquare. To make it more compact, this variant of the Civic power unit is fitted with a counterflow rather than crossflow cylinder head, works on a 10.2-to-1 compression ratio and, according to Honda engineers, is intended "to generate high torque at low rpm, to cope with the stop-start of city traffic, while retaining good fuel economy."

In our experience with the Jazz, the engine certainly seems to accomplish those aims, but it is also a noticeably responsive, pokey unit which revs freely and willingly to the accompaniment of a rorty induction rasp - great fun around town, but it could conceivably become tiresome in the course of a long, fast run.

Arguably the most unusual aspect of the UK-specification Jazz is the choice of gear ratios. On paper, the mph per 1,000 rpm figures for third, fourth and fifth gears of 13.90, 18.62 and 22.09 respectively, seem quite closely spaced; substantiated by maxima in the gears of 83, 88 an 86 mph. There is very little to choose between them, other than the engine revs at which they achieve those speeds. This phenomenon was noted by Autocar testers on previous five-speed Honda Civics.

Economy
In spite of the eager nature of the engine, the apparently strange choice of gearing and the aerodynamically unclean body with its 0.40 drag coefficient, the Jazz recorded 35.3 mpg overall. That isn't particularly impressive fuel consumption figure when compared with, say, the 40.6 mpg of the Mini City, 41.3 mpg for the Renault 5TL or 43.7 mpg for the Nissan Micra - all cars against which the Honda could be said to compete - but it is a reasonable figure. Our consumption figures varied between a worst of 32.9 mpg, after testing at MIRA, and 39.1 mpg, after a spell of less rigorous use around town and on medium-distance commuting trips over a variety of roads.

Oil consumption during the test period was negligible with no apparent change in the level indicated on the dipstick.

Refinement
The Jazz has a lot of good qualities.

Large speedo dominates instrument panel


56 bhp engine gives class-beating if unrefined performance


Headroom not as good as it looks and lots of painted metal in cabin


Upright driving position; plenty of space for oddments

MOTOR ROAD TEST No 31/84

Honda Jazz

PERFORMANCE
WEATHER CONDITIONS
Wind
Temperature
Barometer
Surface
15 mph
70 deg F/21 deg C
29.4 in Hg 996 mbar
Dry tarmacadam
MAXIMUM SPEEDS
mph
kph
Banked Circuit
Best ¼ mile
89.1
94.7
143.4
152.4
Terminal speeds:
at ¼ mile
at kilometre
71
83
114
134
Speeds in gears (at 5,500 rpm):
1st
2nd
3rd
27
52
75
43
84
121
ACCELERATION FROM REST
mph
sec
kph
sec
0 - 30
3.7
0 - 40
2.7
0 - 40
5.8
0 - 60
5.3
0 - 50
8.7
0 - 80
8.6
0 - 60
12.7
0 - 100
13.8
0 - 70
18.2
0 - 120
22.4
0 - 80
29.8
Standing ¼
18.9
Standing km
36.0
ACCELERATION IN TOP
mph
sec
kph
sec
20 - 40
13.3
40 - 60
8.2
30 - 50
14.5
60 - 80
9.3
40 - 60
17.0
80 - 100
11.8
50 - 70
22.4
100 - 120
19.0
ACCELERATION IN 4TH
mph
sec
kph
sec
20 - 40
10.2
40 - 60
6.3
30 - 50
10.8
60 - 80
7.0
40 - 60
11.4
80 - 100
8.0
50 - 70
14.2
100 - 120
11.1
60 - 80
20.6
FUEL CONSUMPTION
Touring*
48.2 mpg
5.9 litres/100 km
Overall
40.8 mpg
6.9 litres/100 km
Govt tests
45.6 mpg (urban)
57.6 mpg (56 mph)
40.9 mpg (75 mph)
Fuel grade
97 octane
Tank capacity
9.0 galls
41 litres

mph
Max range
434 miles
698 km
Test distance
658 miles
1,059 km
* An estimated fuel consumption computed from the theoretical consumption at a steady speed midway between 30 mph and the car's maximum, less 5 per cent.
NOISE
dBA
Motor rating*
30 mph
68
14
50 mph
72
18
70 mph
80
32
Maximumº
86
48
* A rating where 1 = 30 dBA and 100 = 96 dBA, and where double the number means double the loudness
º Peak noise level under full-throttle acceleration in 2nd
SPEEDOMETER (mph)
True mph
30
40
50
60
70
80
Speedo
29
39
48
57
66
75
Distance recorder: 1.0 per cent fast
WEIGHT
cwt
kg
Unladen weight*
13.8
700
Weight as tested
17.1
870
* with fuel for approx 50 miles

Performance tests carried out by Motor's staff at the Motor Industry Research Association proving ground, Lindley.
Test Data: World Copyright reserved by Motor.

GENERAL SPECIFICATION
ENGINE
Cylinders
4 in-line
Capacity
1,231 cc (75 cu in)
Bore/stroke
66/90 mm
(2.60/3.54 in)
Cooling
Water
Block
Aluminium alloy
Head
Aluminium alloy
Valves
Sohc
Cam drive
Toothed belt
Compression
10.2 : 1
Carburetter
Keihin twin choke
Ignition
Contactless
Bearings
5 main
Max power
56 bhp (DIN) at 5,000 rpm
Max torque
68.7 lb ft (DIN) at 3,500 rpm
TRANSMISSION
Type
5-speed manual
Clutch dia
N/A
Actuation
Cable
Internal ratios and mph/1,000 rpm
Top
0.655/21.8
4th
0.777/18.4
3rd
1.041/13.7
2nd
1.526/9.4
1st
2.916/4.9
Rev
2.916
Final drive
4.266
BODY/CHASSIS
Construction
Unitary, all steel
Protection
Six-year anti-corrosion warranty
SUSPENSION
Front
Independent by MacPherson struts, coil springs
Rear
Semi-trailing arms, coil springs
STEERING
Type
Rack and pinion
Assistance
None
BRAKES
Front
Discs, 6.9 in dia
Rear
Drums, 7.1 in dia
Park
On rear
Servo
Yes
Circuit
Diagonal split
Rear valve
Yes
Adjustment
Automatic
WHEELS/TYRES
Type
Pressed steel 4 J x 12
Tyres
145 SR 12
Pressures
26/26 psi F/R (normal)
26/28 psi F/R (full load/high speed)
ELECTRICAL
Battery
47 Ah
Earth
Negative
Generator
Alternator, 45 Amp
Fuses
17
Headlights
type
Halogen
dip
110 W total
main
120 W total

Make: Honda. Model: Jazz. Maker: Honda Motor Co. 6-27-8 Chome, Jingumae, Shibuya-ku, Tokyo, Japan. UK Concessionaires: Honda (UK) Ltd, 4 Power Road, Chiswick, London W4 5YT. Tel. 01-995 9381. Price: £ 3,463.55 basic, plus £ 288.62 Car Tax, plus £ 562.83 VAT equals £ 4,315.00 total.
The Rivals

Other possible rivals include the Ford Fiesta Popular 1.1 (£ 4,319), Renault 5 GTL (£ 4,520), Suzuki SA 310 GL (£ 3,999), Talbot Samba 1.1 GL (£ 4,395) and Toyota Starlet 1.0 GL (£ 4,267).

Power, bhp/rpm
56/5,000
Torque, lb ft/rpm
69/3,500
Tyres
145 SR 12
Weight, cwt
13.8
Max speed, mph
89.1
0 - 60 mph, sec
12.7
30 - 50 mph in 4th, sec
10.8
Overall mpg
40.8
Touring mpg
48.2
Fuel grade, stars
4
Boot capacity, cu ft
4.8
Test Date
June 30, 1984
The Honda Jazz is very easy to drive and has a larger than usual engine size for the class, giving both excellent performance and class-beating economy. But accommodation is very limited, refinement poor, it is starkly trimmed and the ride is uncomfortably harsh; furthermore several items of expected equipment are missing - though it does boast a detachable sunroof. It is expensive, but its "tall build" design does represent an interesting and eye catching approach to the concept of a town car.

Power, bhp/rpm
46/5,500
Torque, lb ft/rpm
54/3,250
Tyres
135 SR 12
Weight, cwt
14.8
Max speed, mph
86.0
0 - 60 mph, sec
18.2
30 - 50 mph in 4th, sec
17.2
Overall mpg
39.7
Touring mpg
51.0
Fuel grade, stars
4
Boot capacity, cu ft
8.4
Test Date
October 15, 1983
In its latest even more frugal version, the Metro combines adequate performance with fine fuel consumption, and a versatile, roomy interior within a compact exterior providing exceptional visibility. Other strong points include handling, brakes, gearchange, instruments, heating, and refined cruising. Despite comfy new seats, the bus-like driving position won't suit all drivers, and some aspects of the ride are disappointing, but overall a fine little car.

Power, bhp/rpm
51/5,600
Torque, lb ft/rpm
56/3,200
Tyres
155 SR 13
Weight, cwt
14.6
Max speed, mph
84.6
0 - 60 mph, sec
16.7
30 - 50 mph in 4th, sec
15.2
Overall mpg
37.3
Touring mpg
47.0
Fuel grade, stars
2
Boot capacity, cu ft
5.8
Test Date
May 7, 1983
Second-generation Charade in its most expensive version is outstandingly well equipped at the price, and delivers competitive performance with very good economy. Unusual three-cylinder engine sounds odd at low speeds but revs smoothly and is relaxed on the M-way thanks to tall five-speed gearing. Good driving position is a plus point and the Charade is reasonably competitive in most other areas of its design, though its ultimate cargo-carrying capacity is limited.

Power, bhp/rpm
55/5,600
Torque, lb ft/rpm
64/2,900
Tyres
135 SR 13
Weight, cwt
14.2
Max speed, mph
93.4
0 - 60 mph, sec
14.2
30 - 50 mph in 4th, sec
12.7
Overall mpg
35.1
Touring mpg
44.7
Fuel grade, stars
4
Boot capacity, cu ft
9.8
Test Date
June 18, 1983
Tested by us in four-speed Comfort form, the Uno Super has a particularly spacious interior and competitive pricing in its favour. Performance, ride, handling and visibility are other virtues. Seat comfort could be improved and though the gearchange is one of Fiat's better efforts it is still not a strong point. With a five-speed gearbox, the Super should give better economy than the Comfort, if not in the same league as the Honda. It is well equipped at the price.

Power, bhp/rpm
55/6,000
Torque, lb ft/rpm
56/3,000
Tyres
145 SR 12
Weight, cwt
12.9
Max speed, mph
87.4
0 - 60 mph, sec
14.0
30 - 50 mph in 4th, sec
13.0
Overall mpg
37.0
Touring mpg
52.6
Fuel grade, stars
4
Boot capacity, cu ft
7.4
Test Date
July 23, 1983
Equipped with a long-legged five speed transmission and the more powerful version (55 bhp) of Nissan's new 1-litre engine, the Micra GL is one of the most economical superminis, but it cannot quite match the Honda's performance. Further virtues are its capable handling, slick gearchange, comfortable driving position and good visibility. Minor drawbacks are restricted rear seat accommodation and mediocre heating and ventilation system but, overall, it is a very effective contender.

Power, bhp/rpm
45/5,400
Torque, lb ft/rpm
50/2,600
Tyres
135 SR 13
Weight, cwt
14.5
Max speed, mph
84.3
0 - 60 mph, sec
18.5
30 - 50 mph in 4th, sec
17.5
Overall mpg
35.3
Touring mpg
47.9
Fuel grade, stars
4
Boot capacity, cu ft
7.8
Test Date
May 14, 1983
GM's supermini is a typically competent all rounder which doesn't excel in any particular area, but has a combination of virtues which place it among the best in its class. Handling, brakes, gearchange, accommodation, visibility and refinement are all strong points, but in 1.0 litre form, performance and economy are only fair. Heating, ventilation and finish are only average and the ride is poor. It is competitively priced.